Ron Wrolson is overseeing the construction of a tiny house village on Puyallup Tribal Trust land, providing emergency shelter to tribal members experiencing homelessness.
Ron has been working for the Puyallup Tribe in Tacoma since 1991, but his roots in this place and with the people here go back much further. Ron's grandfather spoke Whulshootseed, the original language of the Puyallup Tribe, and he was on the tribal council from 1930 to 1956.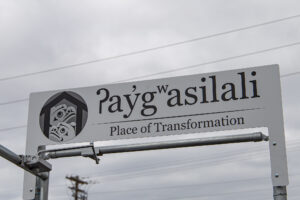 Don Coates, the director of the Puyallup Tribe, asked Ron to be involved in this project because of his decades of experience working on other projects for the tribe. Ron first got hired to work with the tribe through the TERO program. According to the Council for Tribal Employment Rights website, "TERO stands for Tribal Employment Rights Ordinance or Office. TERO Ordinances require that all employers who are engaged in operating a business on reservations give preference to qualified Indians in all aspects of employment, contracting and other business activities."
When I spoke with Ron, he recounted some of the development on tribal land that he has been a part of over the past 30 years. Along with the Emerald Queen Casino and hotel, the tribe has an extensive fisheries program, an elder and vulnerable adult program, assisted living and even a gas station. Building this tiny house village is an extension of the Puyallup tribe's commitment to care for all members.
The management team for the tiny house village project started by looking for a site to build the tiny house village. The first spot they found was further away from Tacoma, and the land there proved to be too swampy to build on.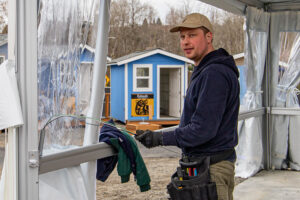 "Then Don suggested the site behind the substation," Ron recalled, "and I realized that this was a great idea, because it is so close to the bus line as well as the housing and health authority counselors and case managers, and of course being next to the substation, it was very easy to get power to the tiny house village. This place used to just be a parking lot."
Next the team needed to figure out how to move forward on the design and build. Ron toured several tiny house villages created by LIHI or the Low Income Housing Institute.
"I was really impressed with how clean and comfortable the LIHI villages were. You could tell it was a good environment. They felt homey, and really, they were spotless. That's what impressed me the most," Ron recounts.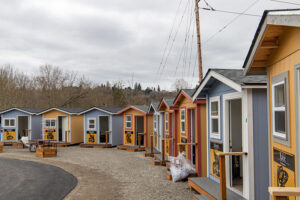 Based on their excellent track record, the team asked LIHI to help create the tiny house village for the Puyallup Tribe.
"LIHI's tiny house village projects have been very successful as temporary stops on the way toward more permanent housing for the residents," says Bradford Gerber of LIHI. "Half the time someone leaves one of these tiny house villages they are moving to permanent housing."
Brad has been with LIHI for five years. He's worked on about 15 other projects, most of them in Seattle and about four in Tacoma. This is LIHI's first project with a tribe.
The tribe started a contract negotiation with LIHI for this project in November 2020, and construction began in February 2021. This project is specifically for currently enrolled tribal members who need emergency housing.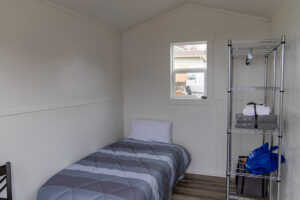 In this village there are 25 houses. Each tiny house is 8 feet wide by 12 feet long, and contains a bed, a shelving unit, a chair, a mini-fridge and a space heater. Along with the 25 tiny homes the village has a hygiene building which holds the toilets, showers and a small laundry room. A community kitchen is sheltered under a large tent. There's another large tent in the center of the village that will act as a social space and gathering spot for community activities, such as AA meetings. In addition there are several small buildings for the counselor's office and the registration office.
The tiny houses themselves were constructed off-site by TMS Native Companies LLC based out of the Yakima area, and then shipped and installed on site in Tacoma. The owner of TMS Native Companies as well as team members are enrolled members of the Yakima Nation. The company is also certified under the TERO program, the same program that helped Ron get started with the Puyallup tribe thirty years ago.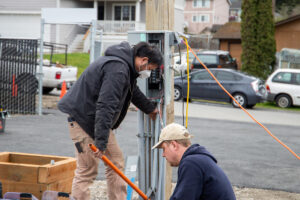 OHM Electrical Contracting completed all of the electrical work on the village. Alfred Sim, Master Electrician and owner of OHM, is half Native American from the Navajo (Diné) Tribe, and OHM is another TERO certified company.
"We're proud to be working with the tribe to help get people housed with dignity and respect. This project is near and dear to my heart," said Alfred as he worked on an electrical panel. "Doing this work makes me feel good, like I'm helping to give back to my community."
The construction and installation on the village will wrap up around the end of March, and residents will begin moving in within the first two weeks of April.
I spoke briefly with tribal member, Christine, who was on-site putting blankets and towels in each tiny house and making sure each one had the proper things for their new residents.
Christine has worked in the Puyallup Tribe's Wrap Around Program for three years. Their mission is "to empower individuals to become healthy and stable through culturally sensitive collaboration with family and community members."
Christine explained that this village is unique in that it will incorporate aspects of tribal and cultural heritage to support the residents of the village as they get themselves back on their feet.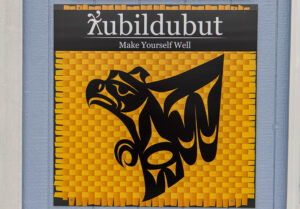 "We're bringing our own members home to the reservation where we can provide them with a sense of dignity, a place where they can experience acceptance. A place where there is no judgement, no prejudice. A place where members can support each other in their journey forward."
Joy radiated from Christine's face as she told me how she had referred the very first future resident to this tiny house village.
The name of this village in Whulshootseed is pronounced Igwasilali. It means Place of Transformation.