Providing Seattle, WA, with Electrical Services & Contracting Expertise
OHM Electrical Contracting offers specialized Residential Electrical Services, Commercial Electrical Services and Renewable Energy Solutions. OHM Electrical Contracting has grown into the preferred contractor for electrical jobs in Seattle and many popular cities in the region, including Bellevue, Redmond, Edmonds, Burien and beyond. We pride ourselves on the quality of our electrical work and exceeding our customers' expectations.

Residential Electrical Services
Our residential services include but are not limited to: repair work, installation of new outlets or switches, lighting design & installation, landscape lighting, home automation & integration, hot tub & sauna wiring, and whole-house surge protection and security systems.
Electrical Repair Services
Every home will need electrical repairs at some point in time. You may do many of your own home repairs, but it's not a good idea to try to DIY electrical projects. The safety risks are just too great. With OHM Electrical Contractors you know you are getting a professional, licensed electrician from a company based right here in Seattle.
When you call OHM we'll send a professional electrician to assess your situation and complete the work on time and for a fair price. We can handle any type of electrical repair, from outlet replacement to panel repair and beyond. Our professionals will come to your location and will make sure the work is completed to your satisfaction. Homeowners can count on OHM. We're only a phone call away! If your home has electrical problems, OHM is your Seattle area solution.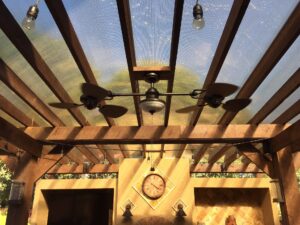 Landscape Lighting and Outdoor Electric
Landscape lighting can add safety, beauty and drama to the outside of your home. Installing power outlets on your patio or other locations in your yard can provide solutions for entertaining in style, allowing you to plug in speakers for music, outdoor heaters and make the best use of your valuable outdoor real estate.
Home Remodels and Renovations
Does your older home have knob and tube, or dangerous aluminum wiring? If this is the case then you run the risk of fire from these older electrical systems. OHM can help with your renovation to get your home's electrical wiring updated and safe for today and into the future. We can update your electrical panel as well since in many older homes the circuit breaker panel may be under powered for modern electrical needs.
When remodeling a bathroom, kitchen, basement, attic or any other part of your home, you'll want to make sure to have the electrical work done by trusted professionals. Call OHM today to get your project off to a great start!

New Construction Electrical Wiring
Whether you're building your dream home or just a small shed in the backyard, OHM's professionals have you covered.
Whether you need a small job done or an entire electrical system installed, OHM Electrical Contracting has the experience and expertise to get the job done right. We pride ourselves on being punctual and professional, and we always put the customer first. Contact us today to see how we can help you with your electrical needs!